The 1 Euro Cinema is a cinematic oracle that randomly shows a movie if you put in 1 euro.

With videoworks (from 1/17 minutes) of 40+ makers that give a perspective on invisible technology or the curated theme.
Explore 1 Euro Cinema Series
with Guest Curators
Selfmade Tools

1 Euro Cinema x
JUJULOVE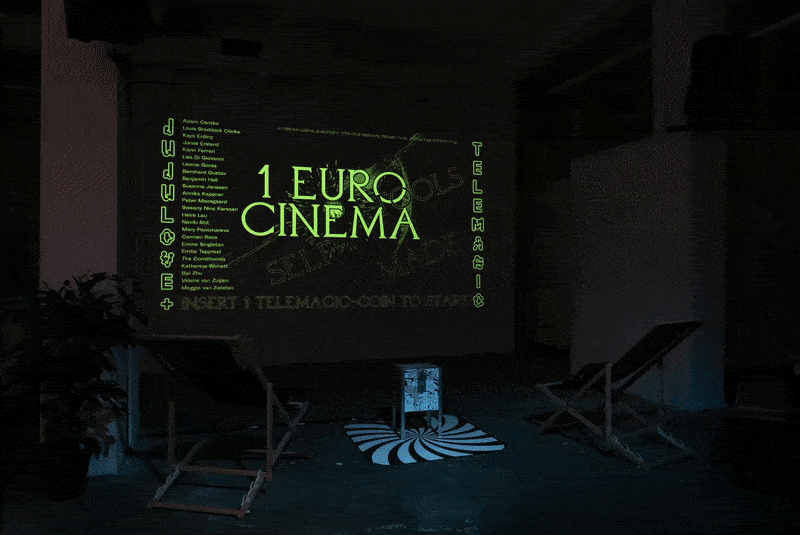 In the start of 2020, as part of PLOKTA festival, Telemagic and video-artist and designer Juliette Lizotte hosted an open call to expand the film-collection with work from experimental tool makers, deep dreamers and cyber magicians…
These new films are made with self made tools, questioning the agency of the maker and questioning video making. A collective audiovisual exploration of the close relationship between music, moving image and technology.
Exhibition Dates: 9 - 24 October 2020
︎ Roodkapje Rotterdam
Chaos x Succes Magic

1 MOP Cinema x biyi zhu
Visual Dialogue Exchange between Macao (CN) and Amsterdam (NL)
In the summer of 2019, the Cinema was part of an exchange program with the Design Center in Macao, China. In collaboration with video-artist and designer Biyi Zhu they have hosted an open call to expand the film-collection with work from young, talented Macanese and Chinese artists. 1 MOP Cinema's collection was expanded with new Macanese films on digital magic, gambling and political chaos.



Made possible by: Instituto Cultural Macao + Stimuleringsfonds Creatieve Industrie
Organized by: Borderless Arts
︎Macau Design Center
︎After Macao, the 1 MOP Cinema was be exhibited in Amsterdam (The Netherlands) to honour the exchange @ VondelCS